EGLD Staking Provider on MultiversX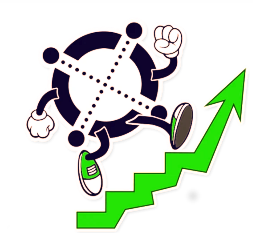 We were really early on Elrond Blockchain and joined the public Testnet on day 1. Since this early days in 2019 we are running and updating Elrond nodes. We celebrated Mainnet on 20th July 2020 and feel the transition from Elrond to MultiversX. More than a blockchain infrastructure, much more as the most projects out there!
Staking, Delegation and Rewards
What is staking and delegation?
Delegation (sometimes called Staking) is the non-custodial process of locking your EGLD in a staking pool, which uses them as collateral in Proof-of-Stake consensus to validate blocks. This generates rewards which can be redeemed by the delegator.
What is the minimum amount I can start with?
For MultiversX, you currently need at least 1 EGLD to make a delegation. In addition, you will need a small amount of EGLD to be able to pay gas fees. Gas fees are required to process any transaction on the MultiversX Blockchain, and are often as low as 0.001 EGLD.
You will be able to get rewards from 10% to 14% per year. This way you earn more EGLD independently from the current price.
How can I delegate my EGLD?
You can delegate your EGLD directly from xPortal Mobile App or the official web wallet. If you are using a Ledger hardware wallet or MulitversX Defi Wallet, you can still login using the web wallet.
How secure is it to delegate my EGLD to a staking provider?
Delegating (or staking) is a non-custodial process. This means the owner of the EGLD will always remain in control of those EGLD. Staking providers do not, in any way, have control over EGLD delegated by anyone else. Therefore, your EGLD can never be stolen or compromised by the staking provider.
The worst case scenario would be that one delegates their EGLD to a provider who stops operating. In this case the owner of the EGLD would simply stop receiving rewards and would have to wait ten days before having their EGLD unlocked in their wallet again.
How long does it take to undelegate and withdraw my EGLD from a staking provider?
You can undelegate your EGLD at any time. However, it will take ten days before you can fully withdraw your EGLD. During these ten days your EGLD are frozen, and you will not be able to send or delegate them anywhere else.
After the initiation of an undelegation process, in next 10 days while waiting for the withdrawal, your EGLD are not receiving any rewards.
How much fees does Rarity.market charge as a staking provider?
For example: if you delegate 100 EGLD to us, while the APY (annual percentage yield) is 10%, 10 EGLD in rewards will be generated. Of these 10 EGLD rewards, 0.942 EGLD (9.42%) will go to Fourtyto.com while the remaining 9.058 EGLD will be paid to the delegator.
What is MultiversX EGLD?
What is MultiversX EGLD?
MultiversX (EGLD) is the native currency of the MultiversX blockchain. EGLD or eGold stands for electronic gold.
EGLD is needed to pay gas fee for every transaction on the MultiversX blockchain.
Where to buy EGLD?
You can buy EGLD right from your xPortal Mobile App. Here you can select your country and you can choose between different services, credit card or wired transfer.
EGLD is needed to pay gas fee for every transaction on the MultiversX blockchain.
Staking Support
How can I get support on Fourtytwo.com or Rarity.market as a staking provider?
Please read our Q&A on this page to gain general knowledge of how MultiversX delegation is working.
There is a Support Channel on Telegram where you can join and write us: https://t.me/RarityMarketStakingOfficial